Jacob's Matrix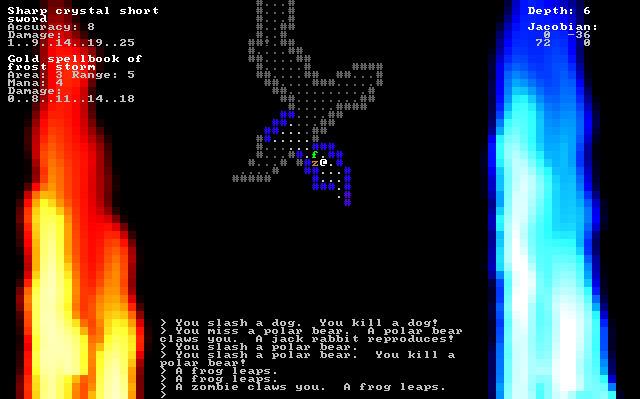 Jacob's Matrix is a Seven Day Roguelike written by Jeff Lait.
You can get the most recent version here.
This provides a Windows executable versions and a Linux executable version along with the source for those brave enough to try and build it from scratch.
About
In Jacob's Matrix you explore a maze of twisty, turning passages, all different. Your goal is straightforward - get from the blue coloured room to the gold coloured room - but unfortunately the orientation of the passages can prove confusing. There are also one or two dozen monsters in the way.
The music is Duegar Requiem by quasist, which can be found at the Rogue Bard.
The features of Jacob's Matrix are:
Turn based, but with a real-world timer to complete each level.
Mana recharges by wall-clock time, not in-game time.
Streamlined interface (as you'll be typing as fast as you can), playable with the number pad only, or with vi-keys.
Fight the fifty-two monsters from Letter Hunt and no new bonus monsters.
Wield any of the 1980 different weapons and cast any of the 216 different spells from Save Scummer.
Weapon and spell selection is done automatically according to your "role" which you can change at any time.
Dying before the timer runs out merely costs you time to get revived.
Ability to shoot portals to create your own shortcuts or escape routes.
Multithreaded. Display and world calculations are run on separate threads. Likewise, the live flames for health and mana are on separate threads.
If you are looking for a more traditional roguelike, I can't help but recommend POWDER.
Have fun!
Screen Shots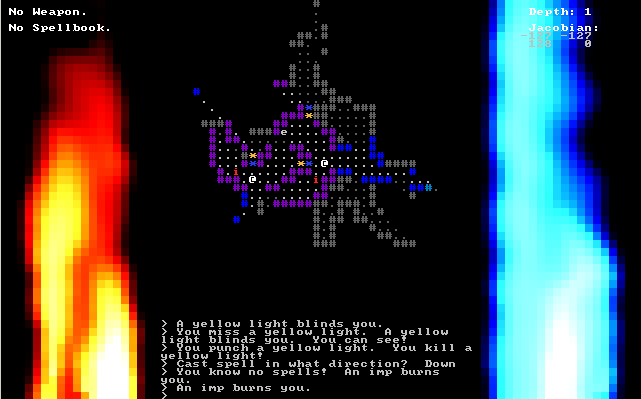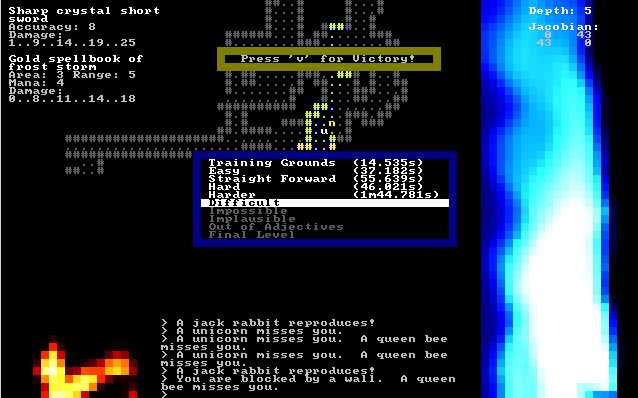 Configuration Notes
No real attempt was made to make the flames compute quickly. After all, they are on separate threads and we all have multi-core machines. Right? Oh! You don't? Well, never fear, there is hope. Edit the jacob.cfg file in the install. Set the flame width/height to 20/50 for slower machines. If this still is not enough, set the flame width to 0 to disable flames entirely in exchange for a boring bar graph.
Version History
A 7DRL is supposed to be completely done at the end of the seven days. However, this should not mean one does not make small fixes.
004 release
May 20th, 2009
No longer create a console window on Windows.
Remove debug message left in 003. (Martin Bays)
Fix ability to easily create portals where you see the back half of the portal. (Martin Bays)
jacob.sh script properly sets LD_LIBRARY_PATH on Linux
The 004 version can be found here.
003 release
May 19th, 2009
Portal trails go through mobs now.
Pure ray spells, ie, radius 1, go through mobs to make it a worthwhile spell choice.
Moving horizontally into a diagonal wall will move you diagonally.
Better fuzzy portal targeting to avoid portals on top of portals.
The 003 version can be found here.
002 release
March 16th, 2009
Yellow light blinding no longer survives death. (Physics)
Shooting yourself no longer raises an text lookup error. (Martin Bays)
Portals no longer hit mobs. (Martin Bays)
Portals are more fuzzy in their landing, making them less finicky to use. (Martin Bays)
Added an option menu to make configuration more obvious.
Added a map to help people realize what the jacobian is talking about.
The 002 version can be found here.
001 release
March 16th, 2009
I had hoped to hold off a patch until I got more systems working than just Windows, but an incompatibility between what tcod and C++ call "bool" meant fullscreen was sticky. This version ensures windowed mode works and makes sure 'P' toggles full/window as documented.
This actually also let me track down the locking bug that prevented Linux from working, so the 001 version has Windows and Linux support.
The 001 version can be found here.
7DRL release
March 15th, 2009
The original 7DRL version can be found here.
SDL Conformance Notice
Jacob's Matrix is shipped with the SDL and SDL_Mixer .dll. You may replace this .dll with the latest version. The official license is:
---

Licensing the Simple DirectMedia Layer library

The Simple DirectMedia Layer library is currently available under the
GNU Lesser General Public License (LGPL) version 2 or newer. This
license allows you to link with the library in such a way that users
can modify the library and have your application use the new version. 

The GNU LGPL license can be found online at:
http://www.gnu.org/copyleft/lgpl.html 

To comply with this license, you must give prominent notice that you
use the Simple DirectMedia Layer library, and that it is included
under the terms of the LGPL license. You must include a copy of the
LGPL license. You must also do one of the following: 

1. Include the source code for the version of SDL that you link with,
as well as the full source or object code to your application so that
the user can relink your application, or 

2. Include a written offer, valid for at least three years, to provide
the materials listed in option 1, charging no more than the cost of
providing this distribution, or 

3. Make the materials listed in option 1 available from the same place
that your application is available. 

The most common way to comply with the license is to dynamically link
with SDL, and then include the SDL source code and appropriate notices
with your application. 

Embedded Use: Personally, I don't have a problem with anybody
statically linking SDL for use with embedded environments that don't
already have an open development environment. (i.e. the users can't
relink programs anyway) However, this does technically violate the
LGPL, so be cautioned. 

---
I have made available a tarball of the SDL code here. It is recommended you get the most recent version from http://www.libsdl.org, however.